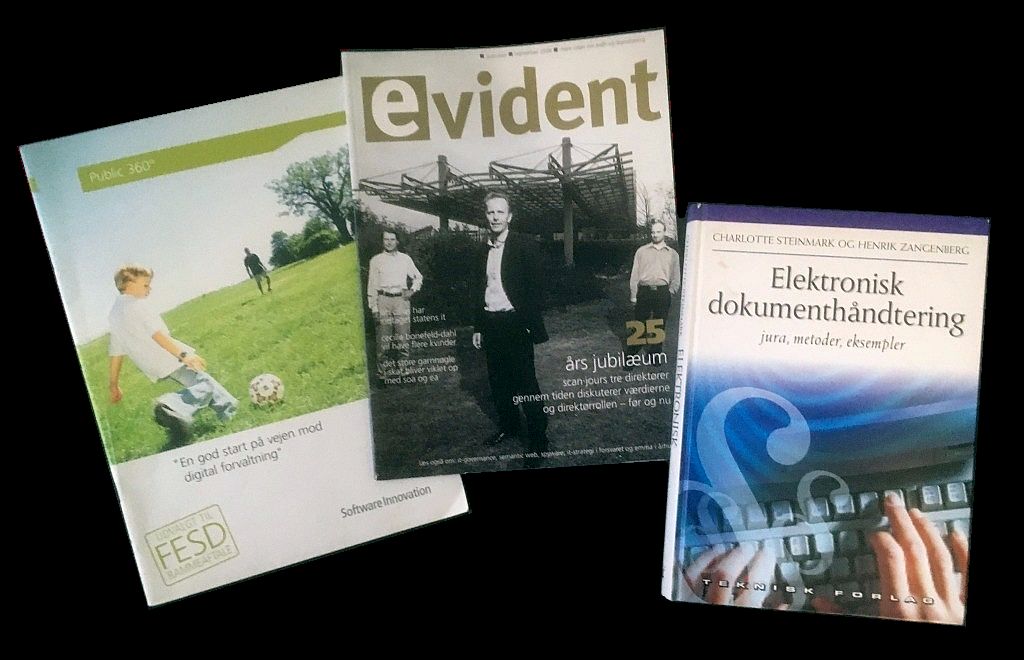 History
Open source in the public sector has been argued for more than 20 years, but today some very mature solutions exist on the market.
This article is my reflection over 2 decades of work, with record and document management systems.
In 1990, John Newton co-founded, designed and led the development of Documentum, that at the time was the pioneer and leader in content management. In 2005, John started Alfresco Software in the UK to bring open source development and innovation to the enterprise content management market.
In the Scandinavian countries the commercial record and document management solutions have been dominant in the public sector for decades.
In Norway Knut-Erik Gudim the principal product manager for Public 360 has for 30 years, been a major influence on record and document management and the Noark standard.
In Denmark Scanjour Captia was for many years the leading record and document management provider for the public sector, with what today is called WorkZone. Finn Madsen the founder of Scanjour managed for 25 years to create a company were people stayed for many years, sharing their domain knowledge.
Standards
The shared public sector standards for record and document management in Denmark called FESD, that started in 2003 continues since 2009 under the OIO standards. You can read more about the standard architecture and in relation to municipalities you can find some detailed information.
In 2003 when the FESD standards were discussed, there were some architects, that suggested using a standard open source platform and asking all record and document management providers, to deliver modules for that shared platform, would be preferable to having the many integration standards. The solution providers often had investments of 20-100 man years work in their standard products. Newer document management products based on standard systems like SharePoint have lower development costs.
Small Open source and large commercial providers
Open Source providers like Magenta ApS have implemented solutions and integrations based on the standards. But the Alfresco solution partners in Denmark today also include large companies like Tieto.
In Denmark we have had to many failed public IT projects as investigated in several reports, that show huge budget overruns and sometimes projects that are never delivered.
From my experience the budget overrun is due to over designing the entire solution up front, instead of implementing a shared architecture and then finish smaller modules one at a time. If you base your solution on an Open Source product, you are not locked into a single vendor and their ability to deliver.
To be fair it is not just the providers that fail, there are projects that lack ownership from the public sector. Project managers, testers and people from the business side, should assist the developers throughout the implementation, to ensure the end product is as expected.
The same 10 companies
Public sector projects often require a bid round, were companies that are interested must have a turnover of anything between 10-100 million, which effectively means its the same 10 companies every time. If a smaller company with specialized knowledge in the domain, whats to have a chance they need to become a subcontractor for a larger company.
In Denmark the site Udbudsportalen stores information on past and present bids and in Greenland the site Business Greenland does the same. The public sector in Greenland has many of the same requirements as in Denmark, because the laws are similar. Therefore the public sector in Greenland has in the past worked with many Danish record and management solution providers, using products like Scanjour Captia, cBrains F2 and Tieto's Public 360.
Shared Open Source platform for the public sector in Greenland
Perhaps in a self governing region with a small population, that is working towards full independence, it would make sense to use a shared Open Source platform and require the solution providers to deliver modules for business process automation, record management and more. With the core platform being Open Source, the module solution providers, could include many smaller and local companies from Greenland, that can give the public sector more value for their money.
I have worked in several R&D units developing record and document management system for over 20 years, using system like DocuLive, Documentum, Public 360, Captia and even developed my own record and document management system, for higher education and course management, in just 2 man years. As product manager in Software Innovation in Denmark I had to read the laws on public administration regulations, freedom of information, data protection and archiving. The data protection and other laws in Greenland are similar to Denmark and the two countries still share some public registers.
The only Open Source projects that I have participated in when working for commercial providers was OpenOffice integration, that many municipalities started to use 8 years ago, mainly to save money. There has recently been some issues with slow security patches for the free Apache OpenOffice, because most developers have moved on to the new LibreOffice.
Open source components in record and document management
The illustration below shows the software components in the Alfresco document and collaboration solution, from the version 5 documentation.
The Alfresco platform uses open source components from Apache like TomCat web application server and Solr for enterprise search. The Apache Foundation is well known for a large number of highly professional open source projects, that most often are build on Java.
Final thougts
I can certainly see a lot of advantages in using a single shared open source platform and give many smaller companies access to building modules for the public sector market. Especially in regions or countries like Greenland, where a small population must share the cost of a public sector, that can be as costly as 2 times more per citizen.
When you look at the complex standard architecture for integrating commercial products to avoid vendor lock in and automating business processes, then accepting lock in to a shared open source platform seems like the lesser evil.
Alfresco with it's record management module is a great example of a professional open source platform, but local Danish shared source initiatives like SBSYS, are also gaining momentum in municipalities.
You can find many smaller companies like Magenta, Aety, Strator and Abuco, that have people with both 10 and 20 years of experience with Open Source, enterprise search or record and document management solutions. Asking a big company to deliver a large project, normally means that they don't have enough experienced people in-house and need to hire many consultants, which often causes budget overrun in public IT projects.